Bristol Active Life Project
Volunteer and receive free training
Wesport are looking for volunteers to support the team of coaches that deliver the Bristol Active Life Project (BALP).
Bristol Active Life Project (BALP) offers activity sessions across Bristol for people who have experienced or are living with a long-term mental illness.
Wesport are looking for volunteers to support the coaches that deliver these sessions.
You will be provided with bespoke training and mentoring to help you in your role.  You will have the opportunity to qualify as a sports coach during your volunteering.
We ask that you are able to commit to one session a week for a period of six months.  There will also be additional training available to you which we would expect you to attend.  Times and locations will vary for these but we will of course be mindful of others commitments you will have on your time.
The following sessions are available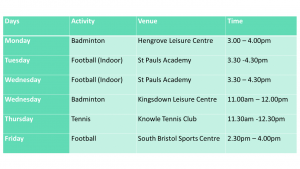 To apply, we ask that you complete a short form.  This is not an application form but if we get oversubscribed we will use the answers from the final question (your reasons for volunteering) to help us select people.
You may be required to complete a Discloure and Barring Service (DBS) check as part of this role.
If you would like to ask any questions about this opportunity or find out any more information please contact Richard Colman, email: richard.colman@wesport.org.uk or call: 0117 328 6266.