The Daily Mile
The Daily Mile™:
The Daily Mile is a simple, but effective initiative – it gets children jogging or running with their classmates, at their own pace, for 15 minutes, 3-5 times a week, at a time that is convenient for the school and individual teachers.
The Chief Medical Officer recommends that all children and young people should engage in moderate to vigorous intensity physical activity for at least 60 minutes every day. At least 30 minutes should be delivered in school every day with the remaining 30 minutes supported by parents and carers outside of school time. These recommendations are also recognised in the Government Childhood Obesity Strategy and The Daily Mile aims to become a key element in that process.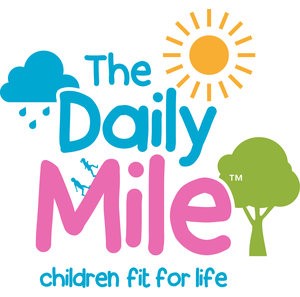 The Daily Mile is a FREE initiative. When you sign up you will a receive a free welcome pack in the post that includes a calendar, certificate, stickers and other useful information for helping to implement The Daily Mile into the school. Wesport now has a Daily Mile Local Coordinator (Caitlin) who can provide further information, support and advice to the schools in the West of England to help them set up and support The Daily Mile initiative in their school. Get in touch to find out more!
The aim of the Daily Mile is to improve the physical, emotional and social health and wellbeing of children – regardless of age or ability. It is a profoundly simple but effective concept, which any primary school can implement.
The Daily Mile is successful because…
• it is simple and free
• it takes place for 15 minutes, each day, with most children averaging a mile or more in distance
• children run outside in the fresh air – and the weather is a benefit, not a barrier
• there's no set up, tidy up, or equipment required
• children run in their uniforms so no kit or changing time is needed
• it's social, non-competitive and fun
• it's fully inclusive; every child, whatever their circumstances, age or ability, takes part in The Daily Mile. The Daily Mile
There are many benefits to The Daily Mile...
• improved fitness levels
• better concentration
• improved behaviour
• increased attainment
• improved staff-pupil relationships
• increased confidence
• better knowledge on the importance of healthy lifestyles.
Wesport is one of twelve County Sport Partnerships in England to be working directly with Sport England to promote and support the growth of The Daily Mile. There are currently just over 3,600 schools engaged in the initiative, but Sport England and The Daily Mile Foundation's partnership marks their shared vision to bring daily physical activity to all 20,000 primary schools in England.
For further details please contact:
Caitlin Stephenson on 0117 328 6250 or email mailto:caitlin.stephenson@wesport.org.uk
Or visit The Daily Mile website: www.thedailymile.co.uk
The Daily Mile logo and 'The Daily Mile' name are trademarks belonging to The Daily Mile Foundation, Hawkslease, Chapel Lane, Lyndhurst. U.K. and are reproduced with permission. All rights reserved.