teacher cpd
Would you like to develop your knowledge of particular sports to enable you to offer a more varied PE curriculum and support pupils in developing a wide range of skills? Do you want to build your own confidence in teaching particular areas of PE?
Please let us know what CPD you would like next year! We are trying to plan a bespoke training calendar to meet the needs of teachers. Please click the button below to complete a quick 2 minute survey.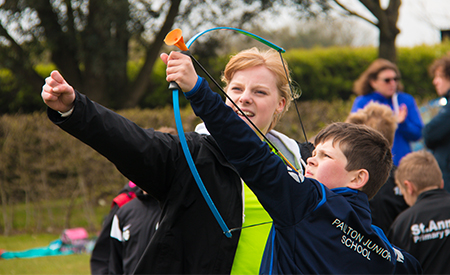 High 5 Netball
This 3 hour workshop is designed to give teachers, assistants, coaches, young leaders and parent helpers all the information and skills they need to deliver High 5 netball in their school/club environment. The workshop is a combination of practical and theoretical delivery and each candidate will be provided with a resource which includes a DVD and session plans and the opportunity to take part in and umpire a game of High 5.
Cost: £25.00 – affiliated** members/schools // £35.00 – unaffiliated members/schools (**Affiliation for primary schools is FREE – REGISTER HERE)
Upcoming workshops
North Somerset - NSETC (Weston Academy) – 18th October (9am-12pm)
Bristol – (Location TBC) – 28th November (9am-12pm)
To book onto either of the workshops above, please request the appropriate booking form from Sam Kemp (South West Regional Coordinator) – southwest@englandnetball.co.uk
Dodgeball Coaching Course
Date: Sunday 8th October
Time: 9.30am – 5.00pm
Venue: Hayesfield School, Upper Oldfield Park, Bath, BA2 3LA
Cost: £100 for non-members, £50 for members. Membership is £15 and also allows you to get discounts on other courses and resources. 
This Level 2 accredited coaching course is suitable for teachers, coaches or any other adults wanting to learn how to deliver dodgeball sessions. No experience required, all rules and game play will be covered. The course will be delivered by qualified coach James Robinson (Bath Spartans Dodgeball Club).
For more details please CLICK HERE
To book your place please contact ben@britishdodgeball.com