teacher cpd
Would you like to develop your knowledge of particular sports to enable you to offer a more varied PE curriculum and support pupils in developing a wide range of skills? Do you want to build your own confidence in teaching particular areas of PE?
We aim to organise bespoke training to meet the needs of teachers. Please CLICK HERE to complete a quick 2 minute survey informing us of your training needs.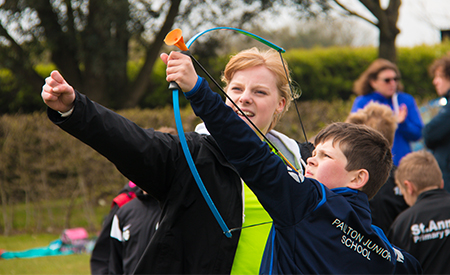 Fencing
The Core Coach Course will equip teachers with the knowledge, skills and resources to be able to confidently teach fencing in schools. At the end of the course candidates will be classed as a 'Core Coach' and as part of this new Coach Education product the candidates will have the fundamentals to deliver metal, plastic and foam fencing experiences.
Date: Wednesday 21st February 2018
Time: 8.30 – 4.30pm
Venue: Little Mead Academy, Gosforth Rd, Southmead, Bristol, BS10 6DS
Cost: £65 per person
PLEASE NOTE - the resources include lesson plans and skills cards but not the actual equipment. This is available to purchase from Leon Paul - click here for more info.
Early Years Training
Delivered by Binspired, this bespoke training course for Early Years and KS1 teachers will focus on developing pupils' gross and fine motor skills and fundamental movement. For more information please click here. Please note, candidates will be expected to complete a number of Online Training modules prior to attending the course.
Date: Currently under review
Time: 9.00 – 4.00pm
Venue: Begbrook Primary Academy, Begbrook Drive, Bristol BS16 1HG
Cost: £160 per person (Includes cost of online training and all resources)
TO BOOK: CLICK HERE to complete the booking form and send to tania@binspireduk.co.uk