teacher cpd
Would you like to develop your knowledge of particular sports to enable you to offer a more varied PE curriculum and support pupils in developing a wide range of skills? Do you want to build your own confidence in teaching particular areas of PE?
We aim to organise bespoke training to meet the needs of teachers. Please click the button below to complete a quick 2 minute survey informing us of your training needs.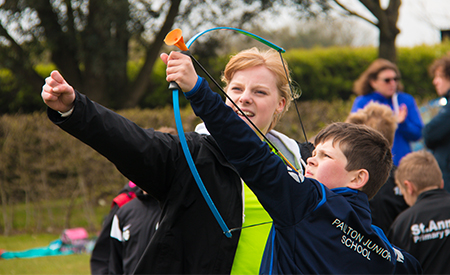 High 5 Netball
This 3 hour workshop is designed to give teachers, assistants, coaches, young leaders and parent helpers all the information and skills they need to deliver High 5 netball in their school/club environment. The workshop is a combination of practical and theoretical delivery and each candidate will be provided with a resource which includes a DVD and session plans and the opportunity to take part in and umpire a game of High 5.
Cost: £25.00 – affiliated** members/schools // £35.00 – unaffiliated members/schools (**Affiliation for primary schools is FREE – REGISTER HERE)
Date: Tuesday 28th November
Time: 9.00am - 12.00pm
Venue: Orchard School, Bristol, Filton Road BS& 0XZ
To book, please request the appropriate booking form from Sam Kemp (South West Regional Coordinator) – southwest@englandnetball.co.uk
Physical Literacy
Developing Physical Literacy is the foundation of PE and School Sport. The most important step towards developing physical literacy is mastering fundamental movement skills as stated in the new National Curriculum. This workshop provides delegates with practical guidance, information and resources to create a fun positive learning environment. This course will give you the opportunity to observe Physical Literacy in action with a class of KS1 Children.
Debbie Scroggs is an experienced PE teacher and course tutor who has written schemes of work for reception, year 1 and year 2 that delegates can access and 'tweak' to suit their pupils.
Date: Tuesday 7th November 2017
Time: 9.30 – 3.30 pm
Venue: Oasis Academy Marksbury Road, BS3 5JL
Cost: £120 (Free to SSP member schools
Other Info: Come prepared for some low-key practical activity
To book a place please complete the attached enrolment form opposite and email to debbiescroggs@ashtonpark.net