2020 Virtual Summer School Games
Welcome to the West of England Summer School Games Virtual Challenge hosted by our School Games Ambassador Simran Kaur and Young Leaders from Ashton Park School!
The virtual challenge was developed in association with your School Game Organisers and is an activity that you can do in your home, yard or garden or at school.  It gives you the chance to achieve your personal best and take part with other children from across B&NES, Bristol, South Gloucestershire and North Somerset!
Every Monday at 10am we will post a new video and challenge card below.
School Games Ambassador Simran Kaur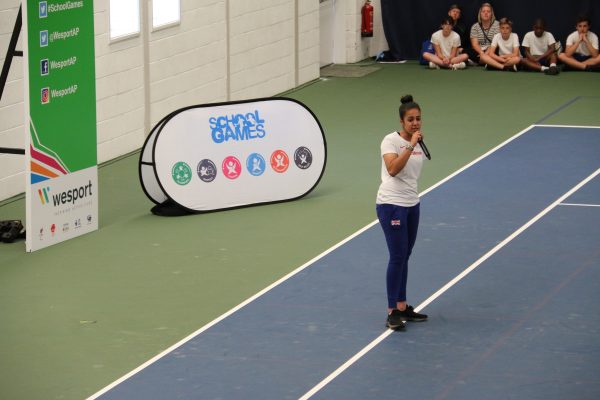 Our Young Leaders will demonstrate the activity and let you know the rules.  All you need to do is practice the activity and get a member of your family or teacher to record your results of the challenge and submit them by 11.59pm on the Sunday.  We would love to see any pictures or videos of your challenge attempts!
Each activity will be open for 1 week and you will be able to download your own personal best certificate for each challenge you enter.  We will be looking out for the School Game values in all that you do!  Passion, Determination, Self-belief, Respect and particularly for the virtual entry system Honesty.  We also challenge you to work on your Teamwork by doing your bit to represent your school (even if you are at home!) and where you are able to, encourage your siblings and friends to take part too.  A point will be awarded to your school for every child that takes part.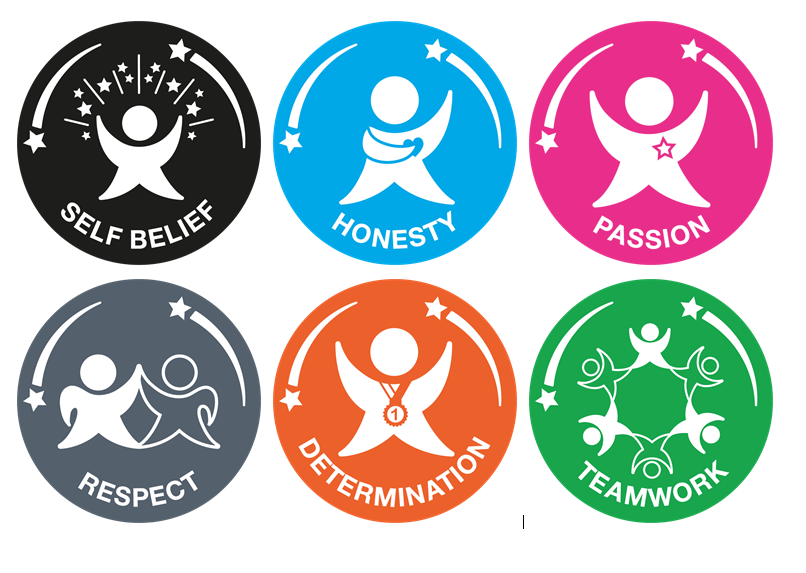 After all 5 weeks of challenges, on our planned Summer School Games multi-event day Tuesday 7th July we will be holding a celebration of our Virtual Summer School Games where the best videos and pictures of people demonstrating the school game values will be shared and the most active school will be announced!
Week 2: Netball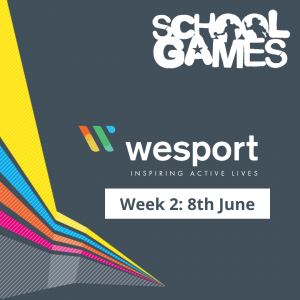 Week 3: Gymnastics
Week 4: Tennis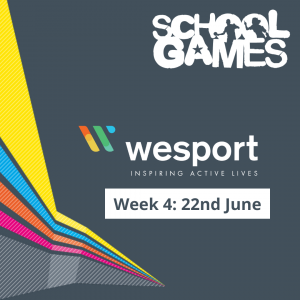 Week 5: Cricket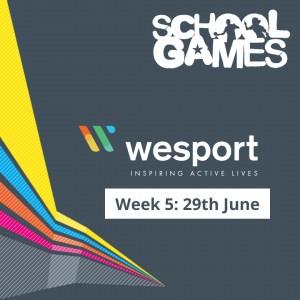 Week 6: Celebration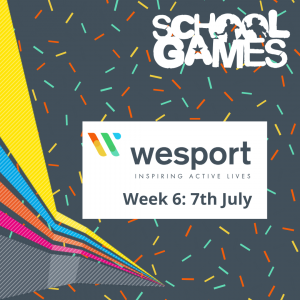 Please read all T&C's on this page before submitting your score.
Terms and Conditions
The competition organiser is The West of England Sports Trust (Wesport) who are based at University of the West of England, Coldharbour Lane, Bristol, BS16 1QY.
The competition is open to any child (aged between 5 and 16) who attends school in, B&NES, Bristol, North Somerset and South Gloucestershire.  Parental/ Guardian/ Carer permission must be sought to enter the Virtual Summer School Games.
To enter click here and submit your score.  If you want to upload your video or picture email SchoolGames@wesport.org.uk  (including in the message the child's first name, school, score (if relevant) and if you are happy for the video to be shared on social media).  To upload larger size videos use https://wetransfer.com/.
The closing date of each challenge will be the Sunday after it has been released. No entries will be considered after these closing dates but can still be submitted.
The parent/guardian or teacher is aware of the nature of the challenge and takes responsibility for ensuring a safe area for the challenge to take place. This involves, but is not limited to, the surface, the equipment and the surrounding areas.
Wesport will judge all entries and their decision will be final. No appeals process will be in place.
All participants can download their personal best certificate for each weekly challenge from the Virtual Summer School Games webpage.
No footage will be shared on social media without the consent of the parent/guardian. This will be obtained through the entry process and consent will not be assumed.
Participants agree to the use of their first name and school in any publicity material, as well as their entry. Any personal data relating to the School Game Value winners or any other entrants will be used solely in accordance with current [UK] data protection legislation and will not be disclosed to a third party without the entrant's prior consent. 
Wesport reserve the right to terminate the competition if circumstances arise that are out of our control.
By entering this competition the parent/guardian or teacher is agreeing to be bound by the terms and conditions.
Terms and Conditions
Please use the #WesportVirtualGames when sharing your challenges on Twitter, Facebook or Instagram (@WesportAP).