wesport inter-workplace softball
active workplaces
Your business is invited to get involved in our fantastic new inter-business softball competition.
No playing experience necessary! Simply take a look at the details below and sign-up your mixed team of up to 10 players.
With 2 events planned over the summer,  what a great opportunity to take part in some fun after-work team activity.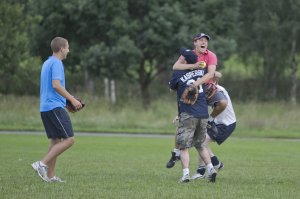 Format:
The first session will be an opportunity to learn the rules, have some coaching and try out softball. The second evening we will then have a mini tournament so you can put your skills into practice! Both sessions will have a qualified softball activator leading the activity.
How to get involved
You will need to register your team of 8 - 10 players (with minimum of 2 players of each gender) who should be available on both evenings from 5.30pm - 8.30pm
(we understand some people won't be able to make both sessions so you are welcome to change your team members around for each session)
Dates: Thurs 31st August and 7th September
Venue: BAWA, Southmead Rd, Filton, BS34 7RG
There is plenty of car parking, changing rooms and a bar on site with food & drink available to purchase.
What does it cost?

£100 a team (only £5 per person per evening!)
For more information or to book your place please click here:
We require min of 4 and max of 8 teams for the event to go ahead.