31st January 2017
west of england young people showcase sporting talent at the 2017 winter school games
active education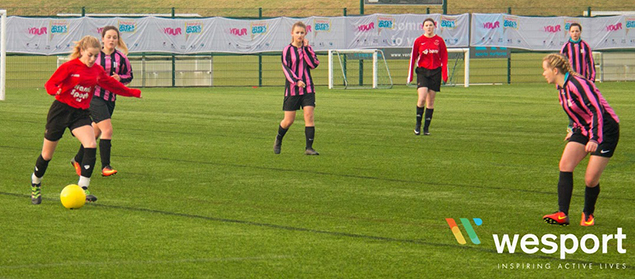 The Games, which were organised by the West of England Sport Trust (Wesport), took place at two venues: South Gloucestershire and Stroud College (WISE) and The University of the West of England. The four days of high quality competition provided opportunities for both primary and secondary pupils to take part in a range of sports, including Girls Football, Table Tennis, Dodgeball, Inclusive sport, Netball and Sportshall Athletics. The Winter Games incorporated open competitions alongside established County Finals, as well as an inspiring Opening Address. Paralympic footballer and Captain of the GB Cerebral Palsy Football team, Jack Rutter, attended the games at SGS College on Tuesday 24th January, sharing his inspiring story and spending time interacting with the athletes.
The School Games is a national Olympic and Paralympic legacy programme designed to provide a competitive school sport environment for local school children. Funded by Sport England and organised by Wesport and the local School Games Organisers, the School Games programme provides a competitive school sport structure and pathway for young people in the West of England.
Andy Blackmore, Wesport's Senior Project Manager said:
"This year's Winter School Games was a fantastic celebration of the West of England's best young sporting talent. It was inspiring to see such a high standard of competition across all sports, and we were thrilled with the success of our brand new Primary Dodgeball event."
Paralympic Footballer, Jack Rutter said:
"I was honoured to be part of the day and was impressed to see such a high number of talented athletes, especially in the Handball which even inspired me to give the sport a try! Speaking to some of the young people, it was clear to see the enjoyment, determination and passion for their sport and I hope they all go on to achieve great things."
Some of the highlights of the 2017 West of England Winter School Games included:
Inclusive Multi-Sport:
Schools took part in Boccia, Sitting Volleyball and Polybat as part of a multi-sport round robin competition. Schools showed great enthusiasm across all three of these sports, for some of the children this was their first experience of competitive sport and they loved it! Results were extremely close; John Cabot took the Gold medal, with joint 2nd place being awarded to Bath Community School and Ashton Park, and joint 3rd place to Oldfield and Ralph Allen.
Handball:
The U13 and U15 Boys Handball competitions were of an incredibly high standard and an excellent demonstration of just how popular the sport has become in the West of England. Orchard School Bristol won straight Gold's in both competitions, with an impressive win in the Finals against Ashton Park in the U15s and Castle in the U13s. A close semi-final in the U15s saw Mangotsfield clinch the Bronze medal over Abbeywood, and Downend secured Bronze in the U13s. 
Dodgeball:
This year saw a brand new Primary Dodgeball competition introduced to the second day of sports competition at UWE on Friday 27th January. Year 5/6 pupils from 8 schools battled it out in 2 groups of competition, with some very close games and a display of highly skilled and tactical play. The semi-final saw Luckwell Primary win the Bronze medal over The Park, and Banwell won Gold in the Final, with May Park taking the Silver.
A teachers from one of the schools told us:
"The children absolutely loved it and dodgeball is definitely going to become more popular in our school! We hope to take part in this competition again next year".
Badminton:
This year once again saw the National Schools Championships being run for KS3 and KS4 girls and boys, supported by Badminton England and enthusiastic volunteers from the Avon Badminton Association. All 4 categories saw some very high standards of play and it was great to see several new schools taking part from across the four Unitary Authority areas.
Badminton School came 1st in the KS3 Girls competition with Chew Valley 2nd. In the KS3 Boys, Gordano secured 1st place with BGS coming a very close 2nd. Clevedon were absolutely thrilled to win Gold in the KS4 girls, with Badminton clinching Silver, and BGS and Gordano took Gold and Silver respectively in the KS4 Boys.
Sportshall Athletics:
Monday saw the return of the Sportshall Athletics event, with both Primary and Secondary schools taking part in respective competitions. The events featured sprint relays, obstacle relays, jumps and throws. It is always a very popular event and all the schools showed wonderful enthusiasm resulting in their enjoyment of the day.
The Year 5/6 Primary competition was won by Headley Park, with Henleaze Juniors taking Silver and St Stephen's taking Bronze.
Gordano had a strong presence in the Secondary school event, taking first place in the Year 7 and 8 girls competitions and the Year 7 boys. St Mary Redcliffe took Silver in the Year 7 and Year 8 boys and Colston Girl's School secured Bronze in both the Year 7 and Year 8 girls. Clevedon came a very close 3rd in the Year 7 boys competition, losing out on silver by only 2 points! St Bede's won the Year 8 boys, and Oldfield and St Gregory's also took home medals.
For more details, please visit our Wesport School Games page or contact Andy Blackmore on 0117 328 6250 or email info@Wesport.org.uk