16th February 2017
#coachingcan change lives – seb's story
active community
active education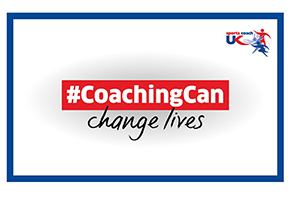 Sports Coach UK is leading a campaign to champion the wider benefits of coaching for society. Here, we get a glimpse of the valuable impact it can have on people's lives as Wesport's Sarah McLeod catches up with local swimming teacher Jen Stoneman from Angelfish Swimmers and Caroline, the Mum of a young swimmer, Seb, to highlight just one of the fantastic #CoachingCan stories from here in the West of England.
When I heard about the #CoachingCan Campaign, it really struck a chord with me after seeing a post on Jen's Facebook page about Seb. Reading about the campaign and this post on the same day really highlighted to me the power of coaching and cemented the fact that #CoachingCan help and inspire people to achieve their goals and that #CoachingCan change lives.
As a Mum of two boys, I have been lucky enough to experience Jen's fantastic teaching first hand with my eldest son Noah. It is hard to explain Jen's amazing teaching ability; her infectious enthusiasm and incredible patience, coupled with her expert knowledge (not just of swimming, but of all things that are vitally important to a 3-year-old; Paw Patrol, Fireman Sam, Thomas and Frozen) makes for the perfect combination. It really is impossible to leave the pool without a big smile on your face after seeing the impact Jen's teaching has on her 'little swimmers'.  Jen and her team of teachers strive to ensure everyone enjoys their time in the pool, learning new skills and water safety, but the benefits of this teaching goes much deeper (excuse the pun!), resulting in real differences to young people's personal and social development.
Jen firmly believes that learning to swim is one of the best and most important skills you can teach a young person, as she explains that nurturing a love and respect of water will be with the young person forever, it is apparent that she is totally passionate about her job as a swim teacher and her love of swimming. When I asked Jen why she coached – she explained she was keen to share a passion of swimming with young people, to promote inclusivity and to ensure good quality tuition. Jen strives to ensure that all lessons are inclusive and accessible to everyone, regardless of their ability and level of confidence. Jen wholeheartedly believes her lessons are important to all learners; improving their safety, independence, coordination, ability, stamina and overall fitness.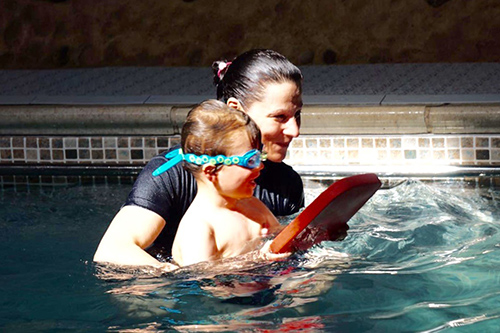 As Jen explains to me the story of nine-year-old Seb, including the progress he has made, she has a wide smile on her face and is obviously very proud of this inspirational young boy:
Seb is a beginner level swimmer with Down Syndrome.  He has poor eyesight, which coupled with not having his glasses in the pool, means it is hard for him to keep concentration during his lesson. Jen ensures the lesson uses lots of demonstrations and visual aids with clear and concise instructions, visual prompts and sign language is also used when communicating with Seb to reinforce a teaching point or practise. Jen has identified the importance of ensuring the pace of the lesson is sufficient to hold Seb's attention and maintain engagement. It can be common for individuals with Down Syndrome to have poor muscle tone and hyper mobility. This affects Seb's ability to keep flat especially when swimming on his back and informs how Jen teaches Seb to achieve a good body position in the water. Seb's swimming lessons have resulted in better muscle tone and fitness which have helped him to take part in other sporting activities in school- including football (Seb is a big fan!), rugby and tennis. This greater muscle control, tone, balance and coordination has also helped Seb in his everyday life with things including his commute to school on his scooter and skateboarding in the park.
Seb tends to 'live in the moment' and can often not think through actions or have an understanding of danger. Jen encourages Seb to always stop and think carefully before practising a skill or activity, for example, to have his toes on the edge of the poolside before jumping. It is hoped that this awareness and training can be applied to other situations such as crossing the road or taking turns at school. Seb has a learning disability, and swimming relies on the learner thinking and coordinating lots of different actions simultaneously and multitasking which is great practise for Seb when dealing with everyday problems and situations that arise.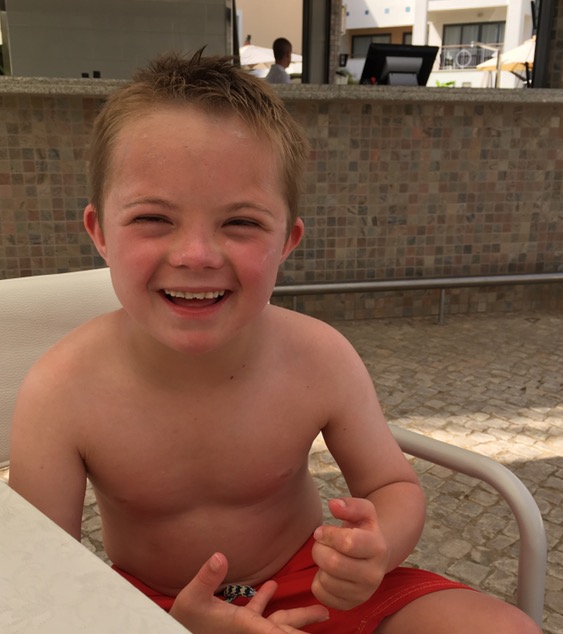 Jen then takes a moment to reflect on her best teaching moment, this was when Seb managed to swim 5m both on his front and back independently.  
"This massive milestone made me feel unbelievably proud of all the hard work, resilience and perseverance it has taken Seb to achieve independence in the water given the physical challenges he faces.  It has taken Seb time to manage his breathing, body position and stroke technique.  Early on, I had no idea as to whether Seb would be capable of learning to swim.  Having worked with such an inspirational young person, I truly believe with the right support, encouragement, teaching and trust anything is possible."
#CoachingCan change lives.
Seb's Mum Caroline is incredibly passionate about sport and access to it, she explains;
"To me, sport is a language, and to see Seb playing football at school makes my heart burst. Scooting, skateboarding, swimming, rugby, football, tennis, whatever - not only keeps Seb fit and active, but it is good for his mental health & well-being, self-esteem, confidence and weight management and helps Seb be like his peers. The fantastic coaching does takes place in the sporting arena, but the benefits reach far wider than this and have really helped Seb develop as a person and impacted on his life as a whole."
If you would like to share your stories on how #CoachingCan change lives, please get in touch with us at info@wesport.org.uk or CLICK HERE for more information about the campaign.  
Take a look at our other blog-  #CoachingCan Change Lives- An Elite Perspective