7th February 2019
Digital Leadership programme
workshops
Digital Leadership programme is for leaders of voluntary, community and social enterprise organisations who want to increase their impact through the use of technology.  This is not about becoming a digital expert, it's about leadership in a digital world.
Delivered by DOT PROJECT the programme has two elements:
Virtual drop-in sessions
These will run on a Wednesday from 11am - 12pm. The purpose of these sessions is to ask ad-hoc questions or seek specific advice about your digital approach, wherever you are based in Bristol, Bath, North Somerset and South Gloucestershire.
Just click the relevant link below to call in at any time from 11am-12pm on: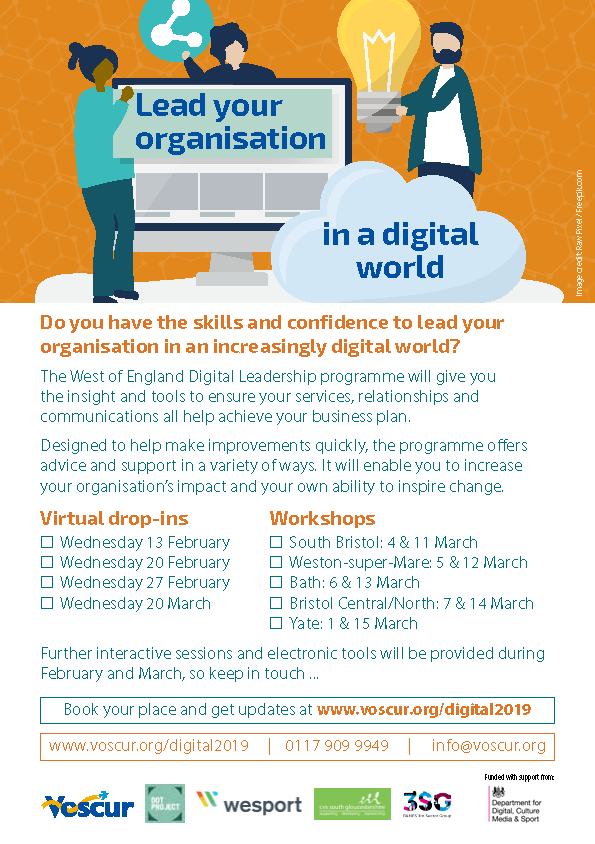 Practical workshops
These two-day free training workshops will support you to maximise your impact, embed digital content and tools in your organisation, and build stronger relationships with your service users and supporters. 
The course will enable you to build strong digital foundations across your organisation, so your teams and processes are fit for purpose now and in the future. The course is practical and it will enable you to make positive changes quickly, with the skills and confidence to:
Lead your organisation and create a positive digital culture
Integrate digital throughout your operations and finance
Use digital tools to improve your service delivery
Enhance your communications and marketing
Expand your fundraising opportunities
Take a responsible approach to digital design and investment
Book your place in one of the following locations: 
A standard allowance for travel costs is available for the workshop.
To book onto a workshop click here