2nd May 2019
It's competition time! #DailyMileHeroes
getting active
mental health
health and wellbeing
active education
Wesport and The Daily Mile™ invite you to take part in our photo competition during the first week of term 6 (3-7 June).
Why?
'Sport England's Active Lives Children and Young People Survey shows that around 3 million children (43.3%) lead active lives, however of that group, only 1.2 million (17.5%) are meeting the Chief Medical Officer's guidelines of more than 60 minutes of activity a day, every day of the week.'
As many of you are aware, the Daily Mile is an initiative aimed at reducing these figures by getting children running for just 15 minutes a day during school. This activity has all manners of proven benefits to children's overall physical and mental health.
As if these proven health benefits aren't enough, we are offering a further incentive for your school to get involved in The Daily Mile, or if you're already involved, we want you to show off all the hard work you have been doing!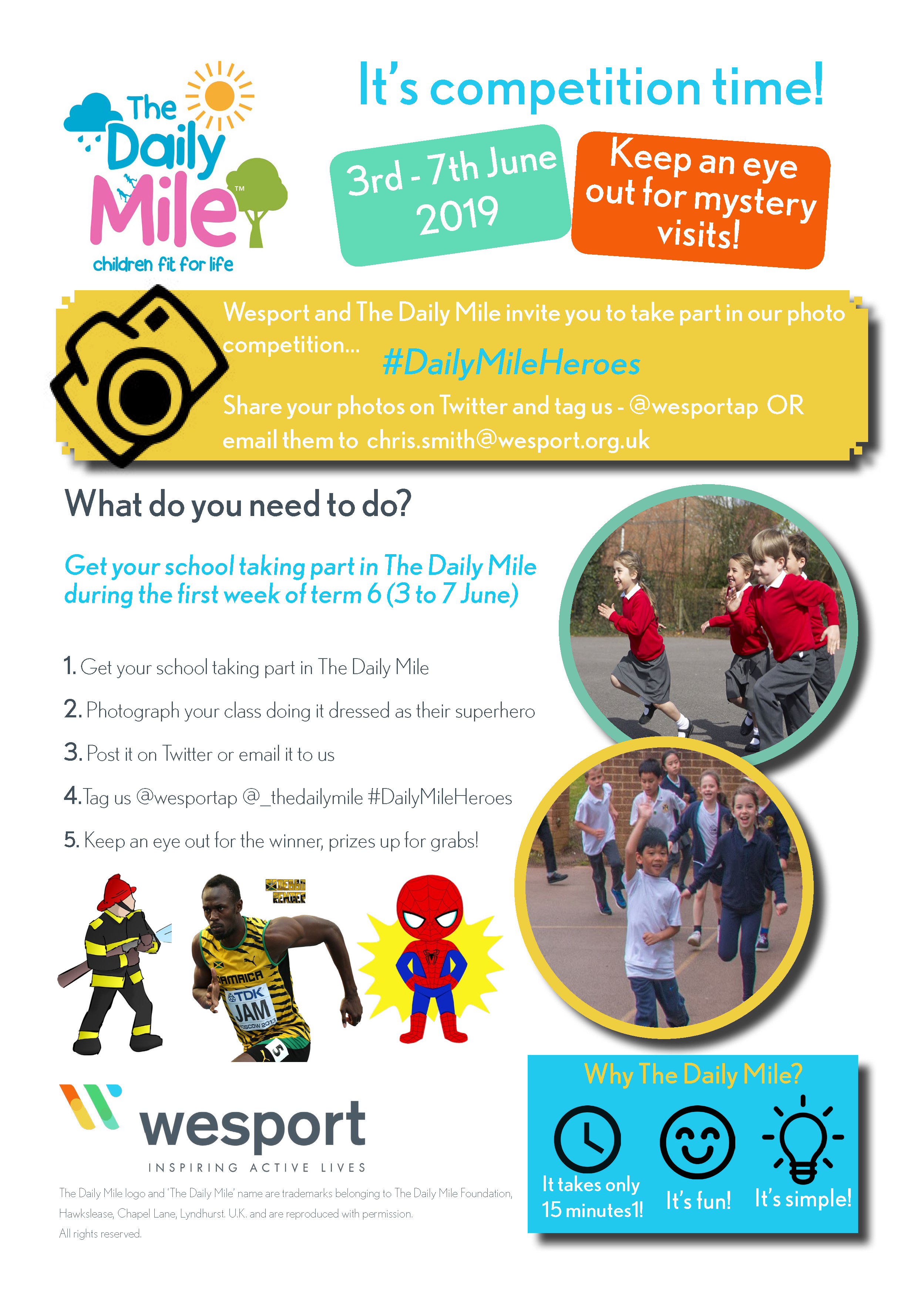 What?
We are hosting a photo competition which will be showcased on Twitter. The theme will be super heroes!
All we need you to do it post a photo of your school or class running their Daily Mile, with a super hero element… whether that be fancy dress, running like super heroes, or telling a story of who your super hero of the month is. You will need to post your photo on Twitter, with the hashtag #DailyMileHeroes. Don't forget to tag @_thedailymile and us @wesportAP.
We will also be arranging some school visits during this time, where you can show off your designs and ideas! We might even come along with a VIP Superhero of our own…
What's in it for you?
Prizes will be up for grabs, and of course you will be inspiring children to be #FitForLife.
The Daily Mile logo and 'The Daily Mile' name are trademarks belonging to The Daily Mile Foundation, Hawkslease, Chapel Lane, Lyndhurst. U.K. and are reproduced with permission.
All rights reserved.
Sign up to The Daily Mile here
What next?
Look out for more information on our Twitter page @wesportAP and get running!
If you have any questions, please don't hesitate to get in touch with our Daily Mile Co-ordinator, Chris Smith;
chris.smith@wesport.org.uk, 0117 328 6962
Please find the flyer attached here