31st October 2016
the west of england celebrates its sporting stars
getting active
active community
active education
active workplaces
The 2016 West of England Celebration of Sport Evening honours sports men and women for their extraordinary contribution to sport and physical activity across the West of England.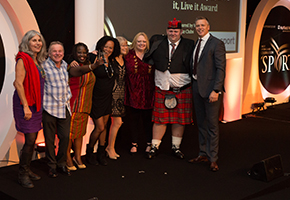 The annual event, organised by the West of England Sport Trust (Wesport) and supported by Nuffield Health in Bristol was attended by over 200 people. Celebrating the achievements of outstanding athletes, inspirational volunteers, exceptional coaches and high quality clubs and organisations in a glittering awards ceremony hosted by Steve Backley OBE, 2 times Olympic Silver Medalist and former Javelin World Record holder.
Throughout the evening, a total of 12 awards were presented to the winners, including Children's Coach of the Year, Young Volunteer of the Year and the Contribution to Inclusive Sport Award. Finally, the event closed on a tribute to the organisation that has made an outstanding contribution to sport and physical activity in the West of England.
Steve Nelson, Chief Executive Officer at Wesport, said:
"There are some truly inspiring people working tirelessly every day to make sure that the West of England offers the best experience possible for sport and physical activity. I am honoured that Wesport can pay tribute to these great sporting heroes at our 5th West of England Celebration of Sport Evening. I would like to personally thank everyone who nominated someone this year. The planning for the 2017 West of England Celebration of Sport Evening will commence soon, so keep an eye on the Wesport website for more information!"
One of this year's winners included Lauren Kianchehr, who received two awards for both Young Coach and Young Volunteer of the Year. She has become an inspirational figure for the development of Boccia, devoting countless hours to help local schools and clubs have an enjoyable experience of the sport. Notably, this year's Club of the Year award was duly presented to Gordano Valley Archers; this year, they became one of only three clubs, in the country, to be accredited and have helped to develop Archery in the local area.  The evening also included an interview with the inspirational Eme Shattock who was diagnosed with a very rare condition called LCH and is currently receiving treatment through chemotherapy. Despite this, Eme continues to be heavily involved in Aqua Sulis Swimming Club as part of their performance pathway.
Sheryl Krause, Hospital Director for Nuffield Health, added:
"We are delighted to be involved with the Celebration of Sport Evening again this year, having been sponsors from the very beginning. We have very similar goals to Wesport in terms of trying to improve the health of the nation, and increasing our levels of physical activity is a big part of this. Any move to make sport more accessible is something that we want to encourage and support.' Sheryl Krause- Hospital Director at Nuffield Health."  
To find out more information about the 2016 West of England Celebration of Sport Evening, please visit www.wesport.org.uk/cose.
The 12 inspirational winners of the West of England Celebration of Sport Evening Awards 2016 were:
Children's Coach of the Year - Nia Edward from The Academy of Gymnastics.
Nia has been fully involved in coaching young Gymnasts from the grassroots level all the way up to elite. Following recent changes to the British Gymnastics elite age group competition system, Nia has developed new training methods that have seen one of her gymnasts become British Champion and another be selected into the British Performance Pathway squad.
In addition to this, Nia also coaches a number of children through the Academies 'Gymnastics for all' programme. In this setting she creates a fun and enjoyable environment for all the children. By focusing on the fundamentals of Gymnastics and coaching skills, which can then be related to all sports through the development of fun games and team competitions.
Her nominator stated that she continues to bring joy to the sport and shares her passion with the children she works with. Most importantly, she is loved by all the children she comes into contact with. She is a true unsung hero.
Participation Coach of the Year Award - Mark Sweeting from Sweet Result Fitness.
Mark joined North Somerset Councils Go4Free programme in April 2016. The Sport England funded programme aims to work with local activity providers to target inactive participants aged 14+, which live in one of the four most deprived wards in Weston-Super-Mare. When Mark joined the programme he ran fitness classes three times a week. In just the last five months Mark has developed his offering even more, now offering over 19 classes a week. He now employees a team of six highly motivated and enthusiastic instructors.
On top of this, Mark has developed the idea of Class Champions, whose role is to support new and existing participants with their journey to a more active lifestyle. Through the Class Champions scheme, he has helped one of his participant's lose six stone and assisted many more to enjoy the benefits of physical activity.
His nominator stated that Mark constantly demonstrates innovative practice, dedication and enthusiasm in order to help more people lead a healthier lifestyle.
Young Coach of the Year Award sponsored by South Gloucestershire and Stroud College WISE - Lauren Kianchehr from Boccia England.
Over the last year, Lauren has gained experience in coaching Boccia across a number of levels. After achieving her leader awards, she was given the opportunity to take part in a level 1 coaching course. In November she passed these coaching assessments, giving her a huge boost in confidence and developed a passion to help people improve their Boccia skills.
Since completing her level one, Lauren has become involved in coaching her schools Boccia club, supporting them to compete in the National Schools Boccia competition. As well as coaching her school side, Lauren has also been coaching at the Boccia England athlete academy. She coaches a number of athletes who are a part of the England talent pathway and even compete internationally.
The nominator added that Lauren has had great fun working with both the athletes and the other coaches. Even though she found it daunting at first, she has grown to love it and strives to help more people access and compete in the sport of Boccia.
Performance Coach of the Year Award sponsored by the University of Bristol - Liz Kincaid from The Academy of Gymnastics.
During the year Liz has achieved monumental results, not only for the Gymnastic Academy in Portishead, but also for Great Britain. Last year, Liz was the only personal coach selected to represent Great Britain at the World Championships in Glasgow where she supported Ruby Harrold who won the West of England Celebration of Sport Evening 2014 Aspiring Young Performer Award.
At the next big competition, the British Championships, Liz had two junior gymnasts in the top six, with one of them becoming British Champion on the floor. In the senior category, Liz entered four athletes that all finished in the top ten.
Liz's year was topped off by five of her gymnasts being selected into the National Team which was the most ever from one club. Three of these athletes where then selected into the Rio Olympics training squad with Ruby Harrold, eventually being selected to go to the Olympics. Liz was then chosen to support the team in Rio which lead to Britain's best women's gymnastics result since the 1928 Olympics.
Liz's nominator stated that to have a coach of her standard at the Academy of Gymnastics and within the West of England is an honour. She is without a doubt one of the top performance coaches in Great Britain and arguably the World.
Aspiring Young Performer of the Year Award sponsored by Bristol Sport - Laurie Greenland from Pro Downhill MTB
In 2015, Laurie dominated the Junior International Downhill Mountain Biking season with seven podiums out of the 7 World Cup events, including 3 victories, resulting in Laurie taking to World Junior Championship Title.
Laurie started at Bristol BMX club, where he trained and raced for a number of years. Following a successful transition from BMX cycling to Mountain Biking, he has successfully secured a professional contract and is working tirelessly to achieve his goal of becoming the world's best Mountain Bike rider.
Bristol BMX Club have been honoured to have played a small part in Laurie's development, everyone at Bristol BMX club is immensely proud of what Laurie has achieved through hard work and determination. Although it is a loss for BMX cycling, Laurie is a great example of how one sport can help develop transferrable skill. This hardworking and talented individual will go on to achieve great success.
Young Volunteer of the Year Award sponsored by the Dame Kelly Holmes Trust - Lauren Kianchehr from Boccia England.
As well as being a dedicated Boccia coach, Lauren also volunteers. Lauren is a qualified Boccia official who travels all over the country supporting various competitions- including national and super league fixtures and also three national finials. This year Lauren completed her level 2 officiating Boccia assessment, enabling her to referee in the 2016 GB Championships. At the championships, she refereed matches between the best athletes in the country, including the players that represented Team GB at the Rio Paralympics.
In December, Lauren took part in the Youth Sport Trusts' national talent camp for the second time. This year, as a young official mentor, she supported a large group of young officials to ensure they developed their skills and received the most out of their time at the camp. Her nominator said that Lauren's passion for Boccia is infectious, Lauren is a credit to young people everywhere and embodies the spirit of volunteering.
Volunteer of the Year sponsored by Richmond Event Management- Val Hufflet from Almonsbury Netball Club & Avon Netball Association.
Val helped establish Almondsbury Netball clubs junior section in 2002 and has held a host of roles at the club, Supporting and providing netballers with a place to develop and play. Currently, Val's role is junior coordinator for the club, where she supports and leads a team of ten junior coaches. Without fail, she is found three nights a week coaching the juniors as well as turning out on a Saturday to cheer on the seniors. On Sunday she is then back to coach and umpire the junior matches. On top of this, she has also helped the club achieve its reaccreditation for four year in a row.
If that wasn't enough, Val also took on the role of Junior League Secretary at the Avon County Netball Association. This role involves liaising with and supporting six other volunteers to co-ordinate venues, umpires and league tables for a total of 82 teams.
The nominator said that Val goes about her enormous list of duties without ever asking for any recognition. She is fantastic ambassador for her club, the County Netball Association and our sport.
Official of the Year Award- Nicky Palmer from Team Bath Netball Club.
Nicky is a long standing member of Team Bath Netball Club. She has not only been playing to a high level, but also umpiring and fulfilling many other roles within the club.
Last year, Nicky decided that she would step away from playing Netball to commit herself to developing as an umpire. As a B award umpire Nicky had already demonstrated the skills necessary to take her umpiring to a high level. However, instead decided that she would set her sights on achieving the A award level. This is the highest award available to netball umpires before they reach international level.
After many hours studying, practise and even hundreds of miles travelling, Nicky finally achieved her goal of becoming an A award level umpire. Since then, she has umpired countless games around the country and even gives her time freely to Team Bath Super League Team to help them improve in their training sessions. All of this lead to her being named Avon County Netball Association's Official of the Year. Netball South West's Umpiring Lead, Danny Neill, said "the best feedback an umpire can get is when teams say – Good, we've got that umpire again! – Nicky fits the bill in what surely will be a long a fruitful officiating career.
The Wesport Try it, Love it, Live it Award goes to sponsored by Wesport's Satellite Programme- Knightstone Housing Association.
Knightstone Housing Association partnered with Wesport to develop a programme to support community cohesion in some of their housing locations across the West of England. Together, the two partners worked to deliver a programme of community festivals, supporting local residents to lead and take ownership of their individual events.
Knightstone were instrumental to the success of the project which involved 7 communities. These communities ran festivals that enabled local residents, of all ages and abilities, to participate in fun, physical activities enabling them to learn about the benefits of an active lifestyle. These festivals also encouraged socialinteraction and positive relationships between local people, reducing the feeling of isolation.
The festivals were organised between June and July this year and saw nearly 1,000 people taking part. The events were organised by 45 local leaders and supported by nearly 100 volunteers. The nominator stated that Knightstone Housing Association were instrumental in making this project the success it was. They continue to work with the communities to make sure these festivals continue to become bigger and better.
Outstanding Contribution to Sport and Physical Activity Award sponsored by Nuffield Health - Battle of the paddle and SGS Active.
The Battle of the Paddle events are volunteer lead events that allow businesses to compete in table tennis competitions. These events where originally developed from an idea the founders Dylan, James and Rusty had after seeing free table tennis tables across Bristol. They decided to arrange nights for businesses to connect and engage with each other over a friendly game of table tennis.
These events have grown considerably since the inaugural tournament and now regularly have over 40 teams taking part. The events take place in various locations across Bristol including offices, pubs, sports centres and even outdoors!
This idea has proved so successful that Table Tennis England are now working alongside Battle of the Paddle to establish it in other cities across England.
The panel wanted to commend this project for its volunteer led approach and their tireless hard work, passion and dedication. 
SGS Active is a sport programme for recreational activity for all South Gloucestershire and Stroud students. The programme was first introduced in 2012 as part of the Sport England Active College's Initiative to provide grassroots sport and physical activity opportunities for free in colleges.
Over the past four years the programme has grown yearly and now offers a wide range of sporting activities. It has engaged over 2,500 students, allowing many of them to try new sports in a fun and flexible way, regardless of their ability. The college has worked hard to embed the programme within its time table and is now finding it has been positive in facilitated with student community cohesion.
The panel wanted to commend this project for its professional nature and the use of sport as a tool to help tackle wider issues such as employability, mental wellbeing and health issues.
Contribution to inclusive Sport award- Dorothy Farquharson from City of Bristol Gymnastics Centre.
Dorothy has been teaching gymnastics to children and young people for nearly 40 years. Her work includes teaching gymnastics to able bodied and disabled youngsters, wherever possible integrating the classes to truly create a sport for all. The range of disabilities include – visual impairment, hearing impairments, autism, ADHD and many more.
Dorothy also has outstanding results with severely disabled adults, encouraging communication skills as well as adapting sessions for a whole range of physical disabilities.  
Her nominator stated that Dorothy has a rare quality of bonding with these youngsters and adults, bringing out the best in each individual. She enables them to experience the thrill of movement; the joy on their faces is her inspiration. 
Club of the Year Award sponsored by the Circadian Trust- Gordano Valley Archers based at The Downs, Norther Somerset.
Gordano Valley Archers have been working tirelessly over the last 12 months to raise the profile of their sport. They have increased the number of people taking part in archery in both the club, within schools and in various community settings across the West of England.
The Clubs membership has grown by over 15% in the last 12 months and now boasts over 170 members of which over 70 are under the age of 16. The club have worked hard to become 1 of only 3 Archery accredited clubs in the country, enabling them to create a safe and welcoming environment for young members.
The club has worked hard to break down barriers for new participants by introducing an 'equipment loan' scheme. The scheme involves the recycling of equipment, so those new to the sport can afford to participate without having the initial expense of buying bows.
Gordano Valley Archery Club is also committed to developing its community links and has been working with 40 primary schools in the last year. As well as this, they have supported the University of the West of England to establish a new club by training 4 students to become instructors.