Effective Use of Coaches
Using external coaches to help deliver your PE and extra-curricular sport can be an effective way of enhancing the quality of your provision. Specialist coaches will bring sport-specific knowledge and a range of expertise that will help develop physical literacy skills in children and introduce them to a wider range of sports. However it is important that you adhere to the national guidelines in recruiting coaches and undertake rigorous quality assurance to make sure they are adding value to your provision.
Please take time to read the documents on the right of this page for further guidance.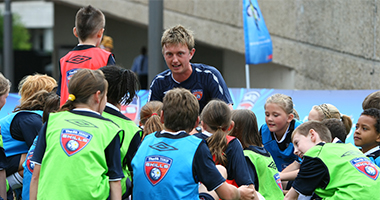 Coaching in Primary Schools Toolkit
The Coaching in Primary Schools Portal has been developed by Sports Coach UK in conjunction with national partners to provide detailed, regularly updated information and advice on the recruitment and deployment of external coaches within primary schools. To view this online portal please Click Here.
Benefits of using coaches in schools
Provide additional capacity to help schools deliver a greater range of sports opportunities for children.
Work alongside teachers to improve their knowledge around the development of core skills in young people such as locomotion, object control, stability, balance and co-ordination.
Support teachers to develop FUNdamental movement skills in young people to help them to be more confident to participate in sport and physical activity as part of a healthy and active lifestyle.
Promote lifelong participation in sport and physical activity to young people. 
Be role models and play a pivotal role in the mentoring and development of young leaders as coaches     
Contribute to the raising achievement agenda in schools through developing confidence and self-esteem in young people through sport and through educating young people on the importance and value of sport. 
Support the transition between school and community sport through helping to create and develop links with local community sports clubs.