active workplace support
The fact you are thinking about a more active workplace as an employer is a great first step! Please get in touch to arrange an initial consultation where we can talk through the options available to suit your organisational needs. Here is an idea of what we can offer: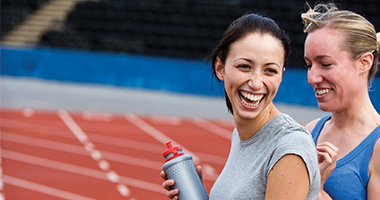 Gain access to our online activity tracker 'Workplace Challenge'
Have access to our partner Nuffield Health's, health and wellbeing services
Enter local inter-workplace sport competitions and leagues
Create connections with local sport governing body offers
Host a wellbeing day or week to engage staff
Conduct a staff survey so you can measure the impact of any programme
Produce a calendar of on-site and off-site sport activities
Train your staff to become Health Champions
Make links to local sport clubs and activities
Promote local sporting challenges and fundraising opportunities
return on investment
If your organisation is going to support the culture required to be more active at work with financial input, you need to be clear on the return on investment any programme has made. The best way of demonstrating this is to ensure you measure current sickness and staff wellbeing levels before any programme starts so you can then quantify the impact. A small investment now, can heap huge rewards.