this girl can
This Girl Can is a celebration of active women who are doing their thing no matter how well they do it, how they look or even how red their face gets. This campaign was developed by Sport England in order to tackle the rising gender gap between the number of men compared to women who play sport and are physically active.
The aim of the national This Girl Can campaign was to show real women playing sport and being active.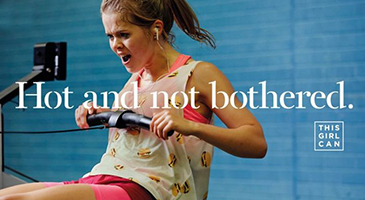 They did this by using images that are the complete opposite of the idealised and stylised images of women we are so used to seeing. Alongside mantras that encouraged 13 million people to view the flagship This Girl Can film online.
how to get involved
There are lots of opportunities to get involved with This Girl Can, helping to get other women active by sharing your activity through social media is a great start. Join the national conversation by following @thisgirlcanuk on Twitter and Instagram using #ThisGirlCan on your posts.  
If you're feeling inspired, take a look at our A–Z  of Sport for all the information you need. 
get involved locally
Across the West of England, We are asking women to get involved with This Girl Can by making a pledge to get active during their working day.
To make your pledge, simply pop along to our big pink This Girl Can tent on one of our event days (View our events for more information) or contact us via social media (WesportCSP) using #ThisGirlCan.
By getting involved you could win a visit from This Girl Can to your workplace for a FREE workplace activity session.
For more information please contact Ruth Mitchel, Email: Ruth.mitchell@wesport.org.uk or Call: 0117 328 6250.
some of our pledgees so far