Coaching & Volunteering
Coaches play a key role in delivering sport providing time, expertise, commitment and enthusiasm to help develop sport and physical activity at every level.
Whether you are existing coach, newly qualified or an organisation/club/group looking to develop coaching, we here at Wesport can provide continuing professional development opportunities which provide coaches with opportunities to update their skills, knowledge and techniques, also encouraging them to network with fellow coaches.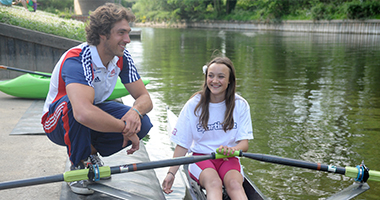 Within this section your will find useful information about the support and programmes that we offer to coaches to help them become the best of coaches they can. These include:
Become a Coach - useful advise on how to start your coaching journey
#CoachingCan - a campaign champion the wider benefits of coaching.
Recruit into Coaching - a programme helping young people get into coaching.
Talent Coaches - a series of support packages available from us to support those coaching who are nurturing talent. 
Workshops - a range of coaching CPD that helps you maintain your coaching qualifications and develop your skills.
If you would like more information about Wesport's coaching offer and support, please contact our Coaching Manager, Richard Colman via email: richard.colman@wesport.org.uk or call: 0117 328 6266.
coaching plan for england
Sport England have released their new coaching plan for England.
Following an extended period of consultation and research to pinpoint a series of guiding principles, commitments and actions, Sport England new Coaching Plan for England aims to cultivate a community of coaches that inspire and motivate an active nation.
Download Coaching in an Active Nation: The Coaching Plan for England
Their coaching plan for England looks at:
How the coaching family is changing and the dual impact and benefits of the coaching experience
Coaching and behaviour change – how they help people get active and stay active, engage inactive people and encourage a regular habit
The current state of play, the diversity of the coaching community and the barriers to success
The road ahead and tactics to employ so that everybody can benefit from the wide-reaching benefits of coaching.
The plan is a call to action for everyone in the coaching community in England to modernise how they think and talk about coaching – and a quest to find new ways to improve the quality of coaching for everybody.