First Aid
RQF Level 3 Emergency First Aid at Work
This RQF Level 3 'Emergency First Aid at Work' one day qualification course covers all the essential first aid scenarios. It is recognised for use in the workplace and supports the UKCC coaching requirements. 
The course will include all relevant workplace and sport injuries and will be delivered by trainers who are medics and Safeguarding Educators. Lifeline Training guarantees a manikin per person, providing opportunities for candidates to have lots of hands on experience. 
Duration: 7.5 hours
Cost: £80
Group size: 10-12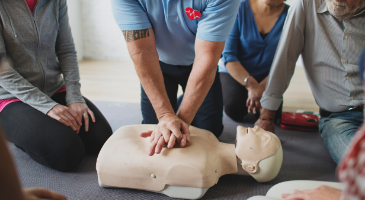 private or 'closed' workshops
If you would like us to organise a workshop for your club officials, coaches or volunteers we can organise a 'Closed' workshop for you (maximum number of attendees for this workshop is 20). We charge a one-off fixed fee and will find a tutor for you, register the workshop and provide resources where appropriate.
If you would like to find out more information or you would like to arrange a 'Closed' workshop, please email: info@wesport.org.uk or call: 0117 328 6250.