First Aid
This first aid course covers the basics of first aid and how to administer it safely and correctly. This course qualifies you as an 'Appointed Person (Sports First Aider)' and is QCF recognised. 
Duration: 6 hours
Group size: 10-20
It will cover the following areas of first aid: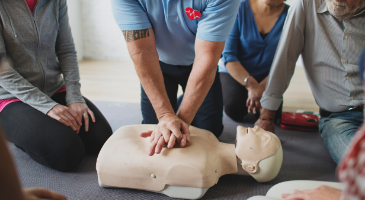 Anaphylaxis,
Asthma,
Bleeding,
Broken Bones,
Burns,
Choking,
Cardio Pulmonary Resuscitation,
Diabetes,
Emergency Action Plan,
Eye and Nose Injuries,
First Aid kits,
Fitting,
Heart Attack,
Poisoning,
Recovery Position,
Shock,
Spinal Injury,
Stroke,
Unconscious Casualty.
private or 'closed' workshops
If you would like us to organise a workshop for your club officials, coaches or volunteers we can organise a 'Closed' workshop for you (maximum number of attendees for this workshop is 20). We charge a one-off fixed fee and will find a tutor for you, register the workshop and provide resources where appropriate.
If you would like to find out more information or you would like to arrange a 'Closed' workshop, please email: info@wesport.org.uk or call: 0117 328 6250.